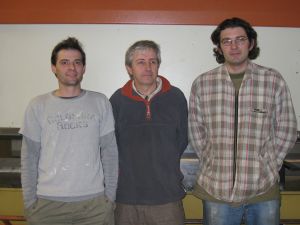 Symbiotics
Symbiotics Design Consultancy Ltd resides in No. 13, The Old Library on Golf Course Lane, where it is creating dramatic contemporary sculpture and artefacts.

Symbiotics was founded in 1994 by David Booth and Alistair Robinson, and they have recently been joined by Mike Hannigan. The consultancy's work includes architectural water features, street furniture, signage and distinctive ceremonial trophies. The team created the Jubilee Torch used by HRH Elizabeth II during the 2002 Jubilee celebrations as well as public artworks in London and other major cities.

Moving into the Old Library has provided this dynamic team with a bright, spacious working environment, allowing them to expand their activities and produce ever more impressive artworks.

For more information about Symbiotics you can view their website at www.symbiotics.co.uk
For more information about lettings at Dean Hill Park contact Myddelton & Major:
49 High Street, Salisbury,
Wiltshire, SP1 2PD
Tel: 01722 337577
E-Mail: commercial@myddeltonmajor.co.uk